The Ritzy cinema in Brixton was again closed yesterday, 7 June, as workers called another one day strike as part of their ongoing campaign for the London living wage.  Workers at the Ritzy, who are members of BECTU, have organised well and shown great solidarity, the cinema has had to close every strike day.  The only workers who crossed the picket line yesterday were some painters hired by the Ritzy to do some work for the day, who went in despite being told about the strike.
The Ritzy workers were joined by some of the many local residents who have been very supportive of the strikes, and by Cinema Workers Solidarity,  who have been helping with the campaign.
Cinema Workers Solidarity, including members of North London and South London Solidarity Federation, leafleted outside Hackney Picturehouse, where the Amnesty International Football and Human Rights Film Festival was being held.   Our leaflets announced a boycott of Picturehouses.  A few people turned round and left when they heard about Picturehouses' refusal to pay the living wage, others attended the festival but raised the issue with management, or mentioned it in question and answer sessions.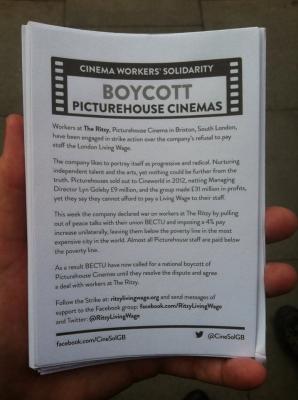 Cinema Workers Solidarity gave flyers to the workers at Hackney Picturehouse, many of whom are also paid below the London living wage.
Late in the afternoon the Ritzy workers left their picket line and travelled up to Hackney.  They met up with supporters from Cinema Workers Solidarity and marched up the road with banners, placards and a samba band, and made a surprise visit to Hackney Picturehouse.  There was a noisy demo that went on for some time.  Anyone attending the Amnesty festival was made aware of the campaign, as were local residents and passers by.  There was a bit of a party atmosphere, with dancing and chanting in the sun.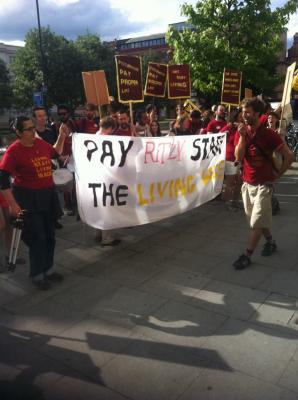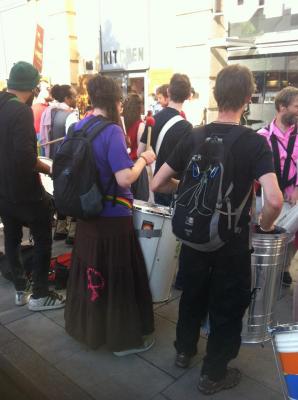 Eric Cantona came out to show his support for the Ritzy workers campaign for the living wage. 
Next steps: The Ritzy workers are determined to continue their campaign until they are paid the London living wage.  With the help of Cinema Workers Solidarity they are hoping to spread the campaign to other cinemas, especially those who are in the Picturehouses chain, or Cineworld, who now own Picturehouses as well as many other cinemas.
To keep in touch with the campaign follow @RitzyLivingWage and @CineSolGB on Twitter.  Ritzy Living Wage are also on Facebook: http://www.facebook.com/RitzyLivingWage  and Cinema Workers Solidarity are too: http://www.facebook.com/CineSolGB